Twelve-year-old Nathan Hrushkin has found the bones of a dinosaur dating back 69 million years.
Nathan goes hiking with his dad Dion in the Nature Conservancy of Canada's conservation site at Horseshoe Canyon, near the town of Drumheller in Alberta.
A year ago, Nathan and his dad, Dion, found small fragments of fossils on its Nodwell property, and guessed that they were falling down from the rock above.
In July, the pair began searching the area again. Nathan found fossilised bones growing out of the side of a hill.
"Dad you got to get up here!" he called to his father.
Dion realised his son had found something special.
"They literally looked like bones made of stone – you could not mistake them for anything else," Dion told BBC News.
"It looked like the end of a femur; it had that classic bone look to it, sticking straight out of the ground."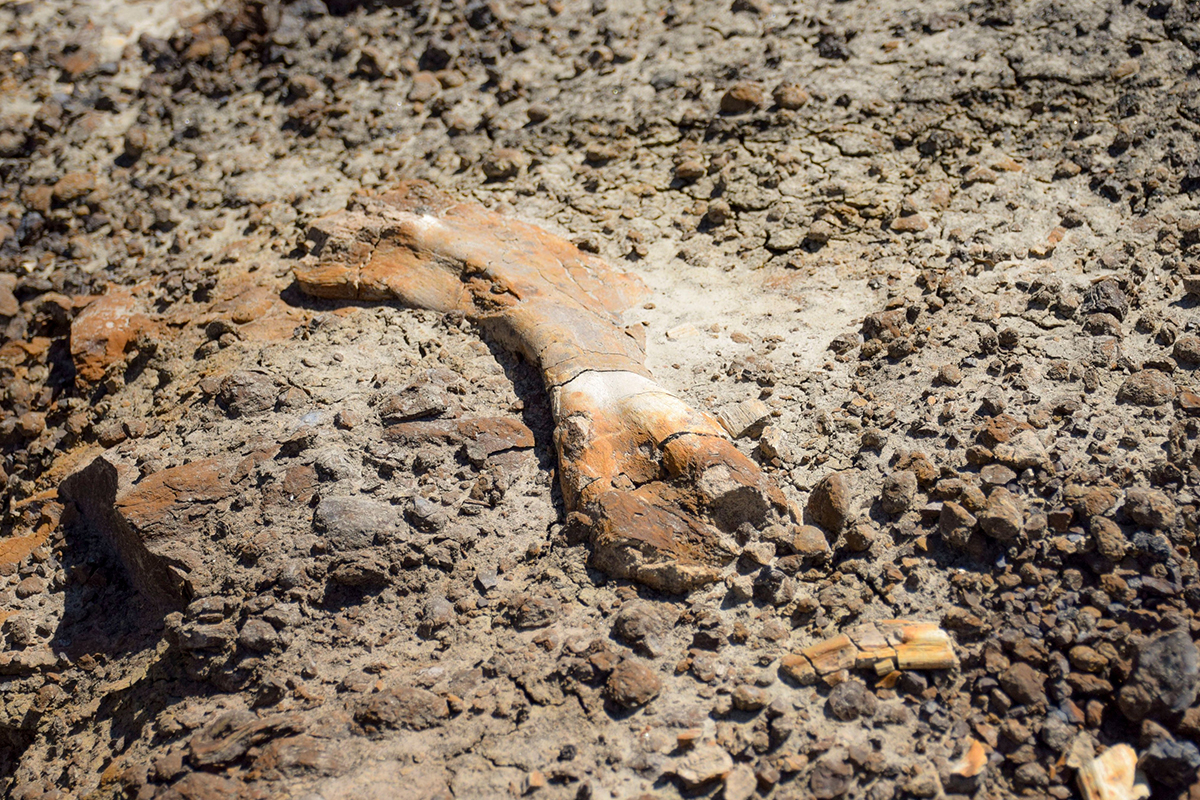 Fossils are protected by law, so Dion found the website for the Royal Tyrrell Museum in Drumheller, Alberta, which is devoted to the study of prehistoric life. The museum told them to send photos of the discovery and its GPS coordinates.
It was identified that the bones belonged to a young hadrosaur, commonly known as a duck-billed dinosaur.
"Because fossil reports from the Horseshoe Canyon area are rare, the Royal Tyrrell Museum sent a team to the conservation site," the Nature Conservancy of Canada said in a media release. "Since Hrushkin's find, palaeontologists have uncovered between 30 and 50 bones in the canyon's wall. The bones were removed in protective jackets made of burlap and plaster and taken back to the museum lab for cleaning and research.
"All of the bones collected belong to a single specimen, a juvenile hadrosaur approximately three or four years old. While hadrosaurs are the most common fossils found in Alberta's Badlands, this particular specimen is noteworthy because few juvenile skeletons have been recovered and also because of its location in the strata, or the rock formation.
"Estimated at 69 million years old, fossil discoveries are rare in this geological layer. The rock layer where this hadrosaur was found preserves few fossils. This hadrosaur is highly significant because it will contribute to filling the knowledge gaps about dinosaurs from that time interval."
The Nature Conservancy of Canada said that numerous significant fossil discoveries are made each year by the public in the Alberta Badlands. The Badlands' arid Dinosaur Provincial Park is a UNESCO World Heritage site.
How Nathan and Dion behaved is a great example of what to do when someone discovers fossils: take photos of the bones, record their location using a GPS or Google Earth, report the find to the Royal Tyrrell Museum and, most importantly, leave the fossils undisturbed in the ground. The latter is the most important step, as fossils are protected by law and much information is lost when they are removed from their location.
"This young hadrosaur is a very important discovery because it comes from a time interval for which we know very little about what kind of dinosaurs or animals lived in Alberta. Nathan and Dion's find will help us fill this big gap in our knowledge of dinosaur evolution," said François Therrien, who is the curator of dinosaur palaeoecology at Royal Tyrrell Museum.
Nathan is very pleased with his discovery.
"I really wanted to be a palaeontologist before (and) now that I've found something already, at only 12 years old … I'd have a pretty killer resume," he told Global News.
His dad was equally pleased.
"I never expected to find (anything) significant like this," Dion told CTV News Calgary. "But we always hoped we'd come across a tooth or a bone fragment or something just to keep (Nathan) interested in geology and keep him interested in being outside."