Brenton Tarrant who massacred 51 Muslim worshippers from two mosques in Christchurch, New Zealand, last year, was sentenced to life in prison without parole on Thursday.
Judge Cameron Mander imposed the maximum available sentence on the 29-year-old Tarrant, the first time the sentence has been imposed in New Zealand, the New Zealand Herald reported.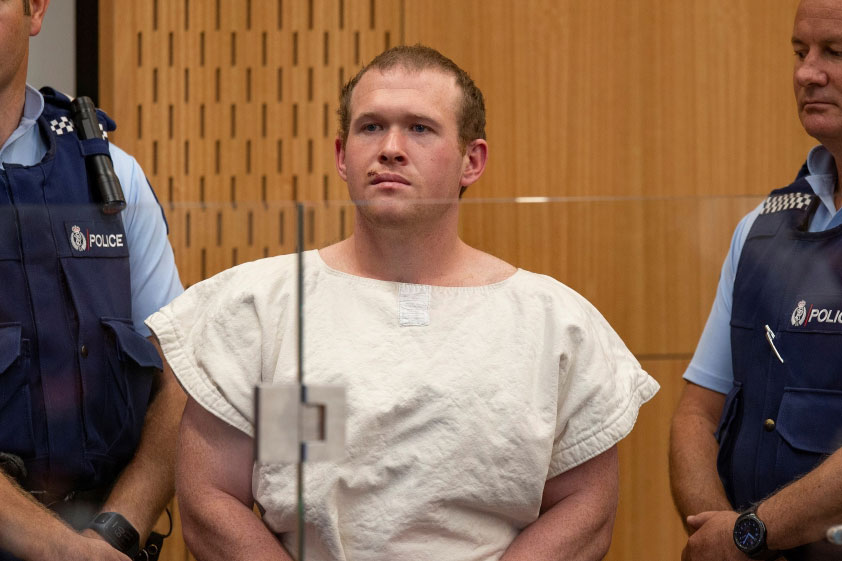 Mander said Tarrant's crimes were so wicked that a lifetime in jail could not begin to atone for them. He said they had caused enormous loss and hurt and stemmed from a warped and malignant ideology, .
"Your actions were inhuman," Mander said. "You deliberately killed a three-year-old infant as he clung to the leg of his father."
"It is incumbent on the court to respond in a way that decisively rejects such vicious malevolence."
The March 2019 attacks targeting people praying at the Al Noor and Linwood mosques shocked the world and forced New Zealand Prime Minister Jacinda Ardern to bring in new laws banning the deadliest types of semi-automatic weapons. Tarrant had flown a drone over the Al Noor mosque and researched the layout as he meticulously planned his attacks. He arrived with six guns including two AR-15 lightweight semi-automatic rifles.
The Christchurch massacre also brought changes to social media protocols after Tarrant livestreamed his repeated acts of atrocity on Facebook.
During the four-day sentencing hearing, 90 survivors and family members recounted the horror of the attacks and the trauma they continue to feel.
Heart-warming scenes outside the High Court in Christchurch.

Rosemary & Rashid Omar, whose son Tariq died say they're relieved "justice has been served."

91 white roses also given to victims and their families.

A monumental day. @rnz_news #ChristchurchMosque #Christchurch pic.twitter.com/8l6woSUFDS

— Eleisha Foon (@EleishaFoon) August 27, 2020
Tarrant initially pleaded not guilty but later changed his plea and admitted 51 charges of murder, 40 counts of attempted murder, and one of engaging in a terrorist act, laid under the Terrorism Suppression Act 2002.
"My 71-year-old dad would have broken you in half."

The son of Haji Mohemmed Daoud Nabi, 71, who was shot dead at Al Noor Mosque, Christchurch, addresses his father's killer. pic.twitter.com/Bz0mWukZES

— CJ Werleman (@cjwerleman) August 26, 2020
Outside court the sentence generated widespread singing and clapping from hundreds of people who were there to show their support for the Muslim community.
Ardern, who has refused to publicly say Tarrant's name, said: "I want to acknowledge the strength of our Muslim community who shared their words in court over the past few days. You relived the horrific events of March 15 to chronicle what happened that day and the pain it has left behind.
"Nothing will take the pain away but I hope you felt the arms of New Zealand around you through this whole process, and I hope you continue to feel that through all the days that follow.
"The trauma of March 15 is not easily healed but today I hope is the last where we have any cause to hear or utter the name of the terrorist behind it."