Every home in the UK, which has a population of around 67 million, will be powered by wind farms within a decade, Prime Minister Boris Johnson is to pledge on Tuesday.
Johnson will announce a "green industrial revolution" that he believes will create thousands of jobs over the next 10 years, replacing many of the tens of thousands lost during the coronavirus pandemic.
"I can today announce that the UK Government has decided to become the world leader in low-cost clean power generation – cheaper than coal and gas – and we believe that in 10 years' time, offshore wind will be powering every home in the country," Johnson will tell the Conservative Party conference, The Telegraph reported.
"You heard me right. Your kettle, your washing machine, your cooker, your heating, your plug-in electric vehicle – the whole lot of them will get their juice cleanly and without guilt from the breezes that blow around these islands."
The UK is suffering a new outbreak of COVID-19 infections, with the highest number of cases recorded since the pandemic began. Johnson is trying to reshape an economy that has, like most countries, suffered badly. Almost three-quarters of a million jobs have been lost since the start of the pandemic.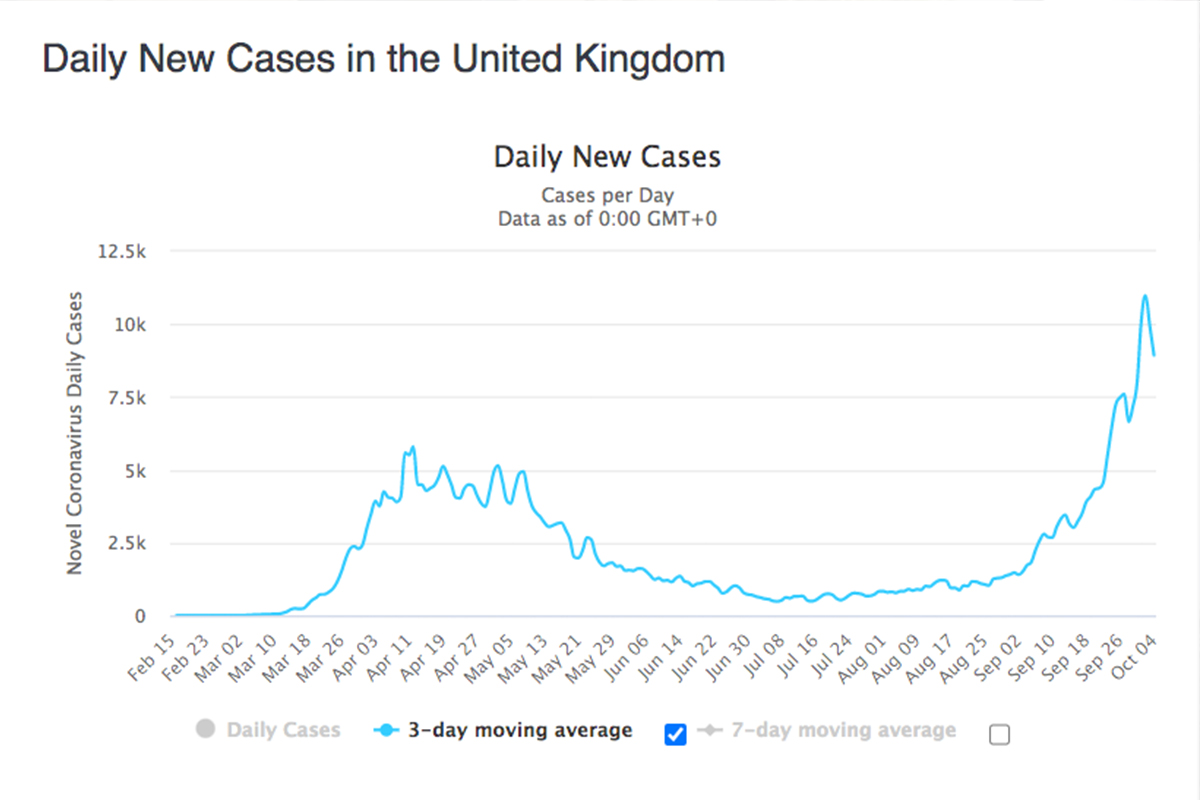 Johnson will pledge £160 million to upgrade ports and factories for building turbines as part of a "green industrial revolution" that Mr Johnson believes could create millions of jobs over the next 10 years, replacing many of those lost because of the coronavirus pandemic.
"We need to give people the chance to train for the new jobs that are being created every day, in new technologies and new ways of doing things. And there is one area where we are progressing quite literally with gale force speed and that is the green economy – the green industrial revolution that, in the next 10 years, will create hundreds of thousands, if not millions, of jobs," Johnson will state.
"Far out in the deepest waters we will harvest the gusts, and by upgrading infrastructure in places like Teesside and Humber and Scotland and Wales we will increase an offshore wind capacity that is already the biggest in the world.
"As Saudi Arabia is to oil, the UK is to wind – a place of almost limitless resource, but in the case of wind without the carbon emissions and without the damage to the environment."
Johnson's sudden enthusiasm for wind energy marks a Damascene conversion for the Prime Minister, who had said seven years ago that wind farms "couldn't pull the skin off a rice pudding".
By replacing fossil fuels with renewable energy, Johnson will move a step closer to the UK's target of net zero emissions by 2050.
He will say that people who have dismissed wind energy in the past – himself included – "forgot the history of this country", adding, "It was offshore wind that puffed the sails of Drake and Raleigh and Nelson, and propelled this country to commercial greatness."